12.7.18 Divine Sleep Yoga Nidra
This class is taught by: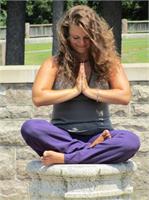 Since 2002 I have practiced and taught various styles ranging from Yin and Restorative yoga to Ashtanga to Vinyasa to Power and Yoga Nidra. I found my passion to be in my eclectic style; with the desire to bring the student into his or her own body and to truly feel the magic of what a practice can bring. I base my classes on the energy of the moment and typically involve the meridians of the body while moving in the most ideal flow energy. Although my classes may be challenging, the intention is to encourage the students to honor their body by resting when they need to, and adversely pushing when they feel they should. I prefer to try and get everyone grounded and appeal to all levels, as well as to the beginner as we are always just beginning. The goal is to be brought into deep rest at the end, balancing the challenges provided.
I began studying Exercise Physiology in college and received a Bachelor of Science Degree. My Yoga education includes 200H training and Study in 2005 with Taylor and Phillipe Wells and with many other fabulous and amazing teachers in between, because first and foremost, I am always a student. However, in the last few years I have come to learn and appreciate Thai massage and it's dance of energy and lazy-man's-yoga that it is. I completed 500H certification with Daniel Orlansky & Co. in the spring of 2014, alongside the blessing of many wonderful teachers including Jennifer Yarro, Jennifer Reis, Doug Keller and many more. As a Reiki Master and teacher, I bring energy work into the classroom (perhaps from a distance if not on contact), including Metta (loving kindness energy work) throughout my classes and my life. In recent years I studied moving through practice with the core-strength meridians with Sadie Nardini and am now undergoing a 200 hour certification in Kundalini to continue the fusion I enjoy to deliver.
Divine Sleep Yoga Nidra has the power to transform us at our core. This ancient tantric meditation systematically guides us through each layer of being, our "koshas." These layers include the physical, energetic, mental, emotional, and spiritual, making this a healing practice inclusive of our whole being.
Done mostly lying down, this is an enjoyable and easy practice. Yoga Nidra is more accessible than most forms of yoga since all it requires is to lie down and listen.
In Yoga Nidra, the state we feel is deep relaxation, similar to that deep relaxed feeling of acupuncture or hypnosis.... our theta waves are engaged. In this state, our parasympathetic nervous system switches on (our relaxation response), and that is where true healing occurs. We can create a healing affirmation, and because it is done without any of our normal chatter to interfere, the seed is truly planted.

In this Yoga Nidra class there will be a few minutes to explain our koshas and how we leave our superficial layers to go deep into our core being. Then there will be a little movement to ground us, followed by deep meditation while lying down (some may chose to sit in order to not fall asleep).
Pack your bags to take a vacation inward. Your body, mind, and spirit will thank you!
Please note for Yoga Nidra: in addition to your yoga mat, bring a blanket or large towel with you to class and socks.
Online pre-registration is encouraged for these popular classes as they will fill up in advance.