All-Levels Gentle Yoga
This class is taught by: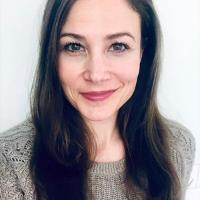 Kimberly first walked into a yoga studio in 2007 at the advisement of a physical therapist. She was recovering from a shoulder injury. In that first class Kimberly received more than she ever expected. It was the first time since competitive swimming as a child she was able to tune into her breath, and she was immediately hooked. With consistent practice and medical treatment she recovered from her injury and has been practicing yoga ever since. In the subsequent years, yoga has been a constant, a gift, which she has watched spread into every area of her life. Her practice has since helped her to face adversities with grace, courage and resiliency. Today, she feels incredibly grateful to share the practice of yoga as a teacher.
Kimberly's teaching approach involves creating a learning environment that is safe, non-competitive, fun and loving. In just one class, students will likely sweat, meditate and laugh out loud as they learn to tune into their inner-self. Kimberly is known for her creative sequences, concise alignment cues, hands-on assists, authentic storytelling, and Divine Sleep Yoga Nidra. Every class is challenging yet accessible to both beginners and experienced practitioners, and those working with injuries. She works with students at every level to offer them the space for personal discovery, both on and off the mat.

Kimberly is thrilled to be a part of the Black Crow Yoga community and teaching team. She also feels incredibly grateful to have studied with a variety of talented yoga teachers in the Boston area since 2007. In 2017, Kimberly completed her 200-hour training at Kripalu Yoga & Health Center with Yoganand Michael Carroll and Cristie Newhart. Shortly after, she completed her Divine Sleep Yoga Nidra Teacher® training with Jennifer Reis. Kimberly is also First-Aid, CPR & AED certified. Oh, and if you can't seem to find her, she is likely traveling, scuba diving, practicing yoga somewhere or snuggled up with her cat Nitrox.
All-Levels Gentle Yoga is a compassionate and accessible yoga practice that moves at a slower pace. This allows you plenty of time to explore breath work, gentle movement, longer holds, supportive rest and the mind-body connection - meeting you wherever you are in your yoga journey.
Flow through a gentle sequence, hold basic postures longer and learn to deepen your practice. Props are sometimes used and modifications are given for anyone working with injuries or special concerns.
This class ends with a long shavasana and most classes typically include guided meditation (Divine Sleep Yoga Nidra) providing time for total relaxation and rest. Studies have shown just 20 minutes of Divine Sleep Yoga Nidra equals three hours of deep restorative sleep. In addition to your mat, please bring a small blanket or beach towel to class.
This easy and accessible class is open to all – a great fit for beginners and experienced yogis alike.
Upcoming classes:
Sign Up

Mon

Jan 28 6:00 pm - 7:15 pm

with

Kimberly

Giardino




Sign Up

Mon

Feb 04 6:00 pm - 7:15 pm

with

Kimberly

Giardino




Sign Up

Mon

Feb 11 6:00 pm - 7:15 pm

with

Kimberly

Giardino




Sign Up

Mon

Feb 18 6:00 pm - 7:15 pm

with

Kimberly

Giardino




Sign Up

Mon

Feb 25 6:00 pm - 7:15 pm

with

Kimberly

Giardino




Sign Up

Mon

Mar 04 6:00 pm - 7:15 pm

with

Kimberly

Giardino




Sign Up

Mon

Mar 11 6:00 pm - 7:15 pm

with

Kimberly

Giardino




Sign Up

Mon

Mar 18 6:00 pm - 7:15 pm

with

Kimberly

Giardino




Mon

Mar 25 6:00 pm - 7:15 pm

with

Kimberly

Giardino




Mon

Apr 01 6:00 pm - 7:15 pm

with

Kimberly

Giardino




Mon

Apr 08 6:00 pm - 7:15 pm

with

Kimberly

Giardino




Mon

Apr 15 6:00 pm - 7:15 pm

with

Kimberly

Giardino




Mon

Apr 22 6:00 pm - 7:15 pm

with

Kimberly

Giardino




Mon

Apr 29 6:00 pm - 7:15 pm

with

Kimberly

Giardino




Mon

May 06 6:00 pm - 7:15 pm

with

Kimberly

Giardino




Mon

May 13 6:00 pm - 7:15 pm

with

Kimberly

Giardino




Mon

May 20 6:00 pm - 7:15 pm

with

Kimberly

Giardino