Anushka Arellano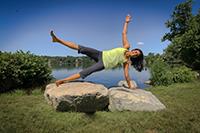 I grew up in India where both my grandparents taught yoga for a living. Yoga in a sense was a strong part of my family life yet I did not take it seriously as a practice until many years later when I moved to the US. Here I rediscovered yoga in the context of trying to find a more balanced and healthy life and to cope with daily stresses.
I completed my 200 hour Yogaworks certification with Natasha Rizopolous in 2012. Since then I have practiced yoga passionately and have taught at my work and at Black Crow.
My classes combine mindfulness with a strong physical practice. My intention as a teacher is to empower students to find their own approach to yoga and to recognize each one's individuality. I am grateful to be able to share my love of yoga with others as I continue on this journey as a student myself. I also spend a lot of time obsessing over playlists for my classes as I think music is an important part of the experience of a yoga class. These days in my class you might find yourself flowing to tunes by Lindsey Sterling, Sia or Lana del Rey :)
Anushka Arellano instructs the following:
Vinyasa Flow to Music classes focus on connecting breath to movement through a vigorous, continuous sequence of postures. We stretch and strengthen our body and spirit, and we calm the mind.

We practice heated, not hot yoga. The studio is heated to approximately 80 degrees. The studio will feel comfortably warm, allowing you to safely stretch deeply. You will enjoy a detoxifying sweat from the athletic nature of the yoga. You will leave refreshed and renewed. Classes are set to music and teachers prepare their own playlists. Classes will vary to reflect the unique style and personality of each teacher.

This class is appropriate for all levels of experience, and beginners are always welcome. If you are new to yoga, or if you have an injury or limitation, please let the teacher know, so he/she can offer modifications and give you extra support.